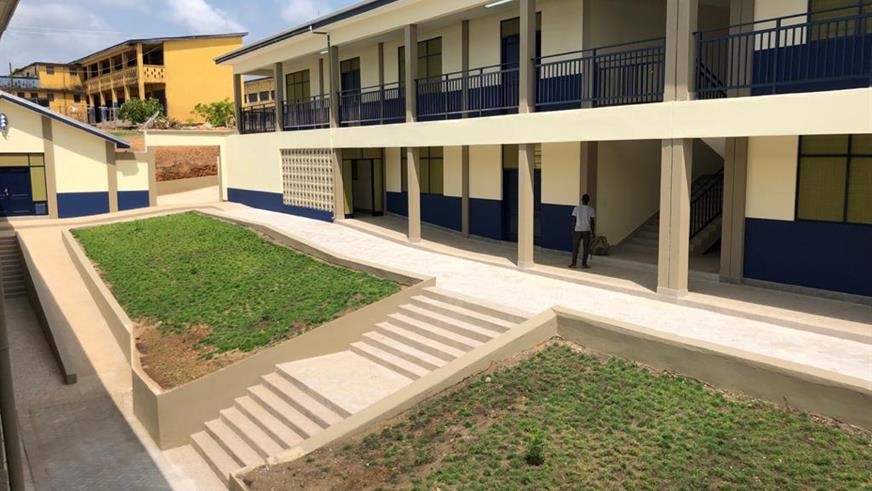 In 2018 Tullow made a $10 million investment commitment to build senior high school infrastructure in Ghana over five years to support the government's policy of providing free quality senior high school education for Ghanaian children.
In early 2021 Tullow Ghana realized a part of that commitment as the first batch of school infrastructure projects were completed at three of the 15 schools selected to benefit from our Free Senior High School (FSHS) policy support programme. The three schools, Nsein Senior High School near Axim, Sankor Senior High School near Dixcove, both in the Western Region, and Nsutaman Senior High School near Mampong in the Ashanti Region, have newly constructed accommodation blocks which will house over 500 students each per year. Altogether, the three schools are expected to impact more than 1,500 students yearly and enhance the quality of their Senior High School (SHS) education. Although the projects are yet to be formally commissioned, the accommodation blocks have been handed over to the school Administrators prior to the formal commissioning.

Shared prosperity remains central to Tullow's approach to sustainability. We aspire to share the benefits of our business with our host country and communities in a way that allows them to generate and develop better livelihoods and improve the quality of their lives as they live and work close to our operations. Tullow Ghana will continue to work with the Ghana Education Service (GES) and the Ministry of Education, with whom we jointly selected and earmarked projects for construction in the Western, Ashanti, Bono Ahafo, Central, Eastern and Northern regions, focusing on schools which have the most urgent need to accommodate qualified SHS students.

"We are thrilled to be able to support the development of education in Ghana and excited to see these projects completed with the support of the Ghana Education Service, the Ministry of Education and our implementing partners. Tullow's association with the government of Ghana's Free Senior High School (FSHS) policy not only satisfies its commitment to socio-economic investment but gives real meaning to its shared prosperity philosophy" – Cynthia Lumor, Corporate Affairs Director - Ghana
There are 12 more projects to be completed and significant progress has already been made with procurement processes advanced for the construction of a 12-unit classroom block for Bonzo Kaku SHS at Awiebo, a 1-unit dormitory block for Annor Adjaye SHS in the Jomoro Municipality, and a 1-unit dormitory block for Kikam Technical Institute, in the Ellembelle District.

We hope that the completion of the six classroom blocks and nine dormitory blocks within the FSHS project scope will contribute significantly towards the GES attainment of its target of 10% increment in the enrolment rate of rural poor Junior High School graduates accessing SHS, as well as the additional milestones of improving the Ghana pass rates in Science and Math in the West African Senior School Certificate Examination to above 35%, and improved education for girls.

The development of education in Ghana has been central to Tullow Ghana's efforts since its operations commenced in Ghana in 2007 and will remain a core focus as we implement our 10-year Value Maximization Plan. Currently, Tullow's education initiatives are implemented in-country, from Basic through Secondary to Tertiary levels with a focus on developing Science, Technology, Engineering and Mathematics (STEM).