Tullow takes a strategic approach to embedding sustainability throughout our business. This approach is based on our understanding of the needs and demands of our stakeholders, combined with a focus on the topics that reflect our most significant economic, social and environmental impacts.
We believe this approach helps us to be a stronger, more resilient business and enables us to deliver significant value for our host nations and all those we engage with.
Our sustainability framework includes 15 material topics which are clustered in four pillars. Each pillar and its related material topics directly contribute to the advancement of seven United Nations (UN) Sustainable Development Goals (SDGs).
Our material topics were defined in 2019 after consideration of feedback from our stakeholders, our business strategy and leading sustainability reporting standards and frameworks, including sustainability reporting guidance of IPIECA, GRI Standards and the SASB Oil & Gas Sector Exploration and Production Standard. We also considered sustainability trends impacting our industry and global priorities reflected in the SDGs. During 2022, our Senior Leadership Team (SLT) confirmed these sustainability material topics remain relevant and continue to reflect our most important social and environmental impacts on the economy, people and environment.
In 2023, we intend to undertake a new materiality assessment to align our sustainability focus with our updated business strategy and impacts in today's business environment.
Our Sustainability Report 2022
This Sustainability Report complements our 2022 Annual Report and provides further details of our environmental and social performance over the past year.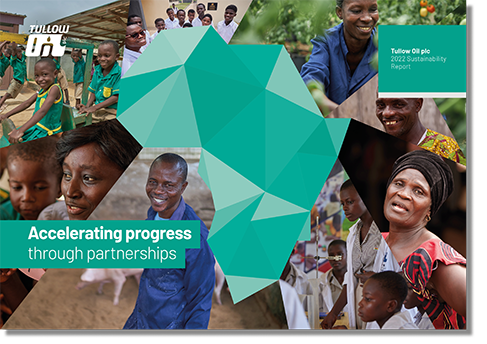 Shared Prosperity
Prosperity is attainable when communities have access to reliable and affordable energy that enables people households and communities to improve their quality of life. It supports businesses that create local jobs and improves access to health, water and education. Tullow facilitates this through the responsible operation of our assets and zero tolerance for corruption and continuous tax transparency.
Shared Prosperity is our intentional strategy to go beyond access to energy and deliver economic and social benefits in our host nations. Our social investment in education and skills development enhances employability and enterprise development, including advancing livelihoods in agricultural sectors, to increase local entrepreneurship, providing not only financial resources but also the critical building blocks of long-term self sufficiency and growth.
Our Policies and standards