Related documents
January 2022
Group Licence list
Current exploration, development and production interests.
Download PDF 76KB
---
Ustawi - Tullow Kenya magazine
Local magazine showcasing Tullow's social investment projects and responsible operations in Turkana
Download PDF 4,846KB
---
31 December 2015
Tullow Kenya BV 2015 Accounts
Download PDF 682KB
---
31 December 2014
Tullow Kenya BV 2014 Accounts
Download PDF 1,190KB
---
Related links
Tullow has a track record of discovering significant oil resources in East Africa.
Tullow has taken its knowledge and understanding of the geology in Uganda across into neighbouring Kenya. Since 2012, Tullow's successful exploration and appraisal drilling campaigns in Kenya have resulted in the opening of a second new tertiary rift play in the South Lokichar Basin.
Watch the video below to see how Tullow, its Partners and the Government of Kenya are working together to develop these resources through Project Oil Kenya.
Development planning
Throughout 2020, Tullow worked closely with its Joint Venture Partners to progress the Full Field Development Plan. In September 2020, the Government of Kenya agreed to an initial extension for the 10BB and 13T licence blocks until 31 December 2020 and in December 2020, following approval of the 2021 Work Programme and Budget, granted a full extension until 31 December 2021 by which date the Group is required to submit a Field Development Plan.
In November 2020 Tullow announced a joint decision to re-assess the development plan and design a project that is economic at low oil prices whilst preserving the phased development concept. Tullow and its Joint Venture Partners expect to complete a revised assessment of the project in the second half of 2021.
During 2020, the Early Oil Pilot Scheme (EOPS) successfully completed two years of production and all the required reservoir and production data gathering was completed as planned. Tullow and the Joint Venture Partners then closed down EOPS and demobilisation of all rental equipment was completed. The reservoir and production data gathered during EOPS is now being used in redesigning the full field development concept. EOPS production of more than 350,000 barrels of oil from the Ngamia and Amosing fields provided six months' sustained rate and pressure data. The data confirms reservoir quality and continuity in both fields, enabling the Group to optimise plans to focus on the most productive wells at the crest of the fields, leading to improved rates per well and refined injector/producer patterns. The impact of this on plateau rates and recoverable resources is being assessed.
In parallel, the Joint Venture Partners are also working closely with the Government of Kenya on securing approval of the Environmental and Social Impact Assessments and finalising the commercial framework for the project.
Our history in Kenya
Tullow entered Kenya in 2010, after signing agreements with Africa Oil and Centric Energy to gain a 50% operated interest in five onshore licences; 10BA, 10BB, 10A, 12A and 13T. In 2012, Tullow farmed into onshore Block 12B with 50% and increased its interest in Block 12A to 65%. Since then our interest in Block 10A was relinquished in December 2013. Tullow currently has a 50% operated interest in Blocks 10BA, 10BB, 13T and 100% in Block 12B. In June 2019 Tullow exited non operated Block 12A.
Exploration & appraisal success
The Ngamia-1 exploration well in Kenya marked the start of a significant programme of drilling activities across the acreage. In 2012, the Ngamia-1 well successfully encountered over 200 metres of net oil pay, the second East Africa onshore tertiary rift basin opened by Tullow. This has since been followed by further exploration success in the South Lokichar Basin at the Amosing, Twiga, Etuko, Ekales-1, Agete, Ewoi, Ekunyuk, Etom, Erut and Emekuya oil accumulations.
Key milestones in Kenya
2018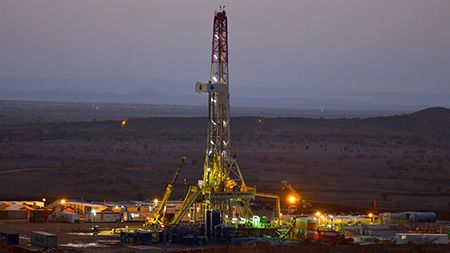 2018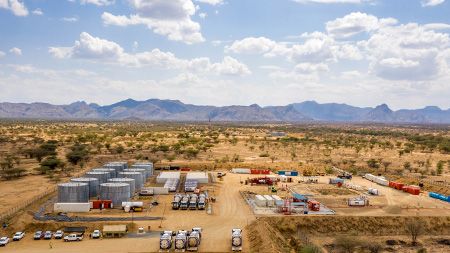 2016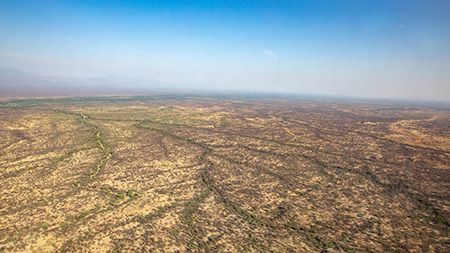 2015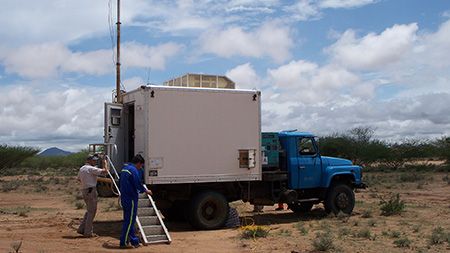 2014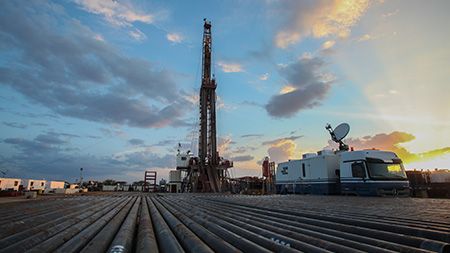 2014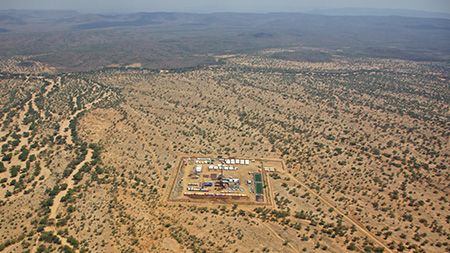 2013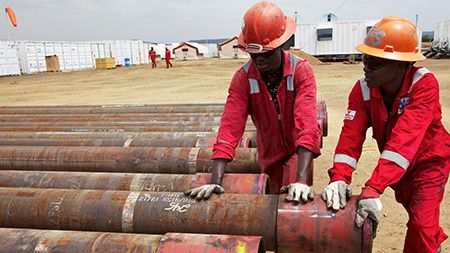 2013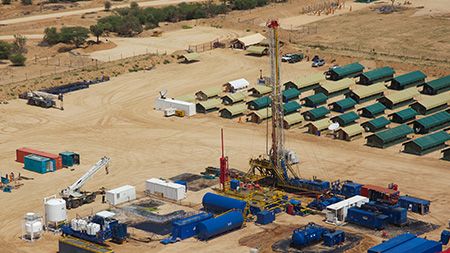 2013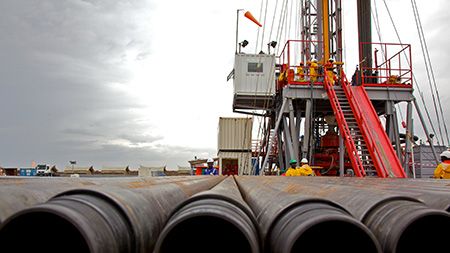 2012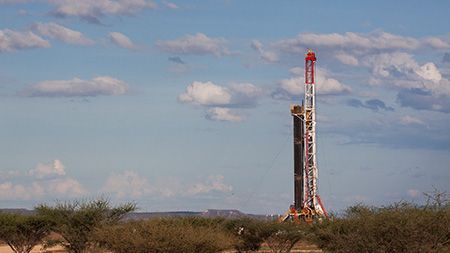 2012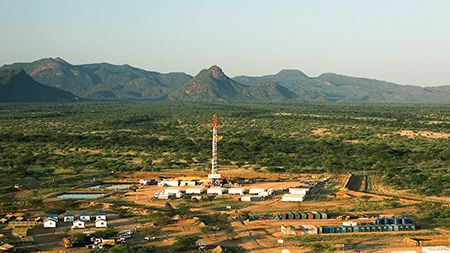 2011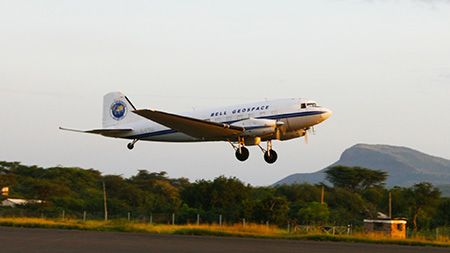 2010