Advancing progress
Prosperity is attainable when communities have access to reliable and affordable energy that enables people households and communities to improve their quality of life. It supports businesses that create local jobs and improves access to health, water and education. Tullow facilitates this through the responsible operation of our assets and zero tolerance for corruption and continuous tax transparency.

Shared Prosperity is our intentional strategy to go beyond access to energy and deliver economic and social benefits in our host nations. Our social investment in education and skills development enhances employability and enterprise development, including advancing livelihoods in agricultural sectors, to increase local entrepreneurship, providing not only financial resources but also the critical building blocks of long-term selfsufficiency and growth.
Accelerating progress through partnerships
Through our Shared Prosperity strategy, we focus on amplifying our efforts in accelerating
progress, by investing time and financial support and building partnerships with organisations that help us in:
training for young people in market relevant transferable skills that, enhance employability and entrepreneurship.
strengthening job finding and support services to graduates and businesses.
seed capital, mentoring and financial literacy training to entrepreneurs and businesses, especially in the agricultural sector to increase local entrepreneurship and business performance.
support to local companies in expanding capacity and capability, thereby optimising local content.
This is underpinned by:
taking action to advance the positive and mitigate the negative environmental and social impacts associated with our business activities.
maintaining deep dialogue, positive relationships and long-standing partnerships to understand the context, impacts and benefits, risks and opportunities associated with our business activities.
Our strategy directly addresses two of our priority Sustainable Development Goals (SDGs):
#4: Quality Education
#8: Decent Work and Economic Growth

Our Sustainability Report 2022
This Sustainability Report complements our 2022 Annual Report and provides further details of our environmental and social performance over the past year.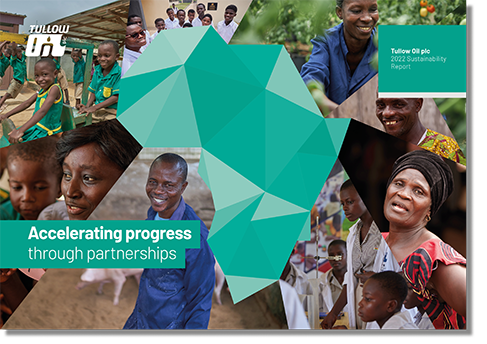 ---
---