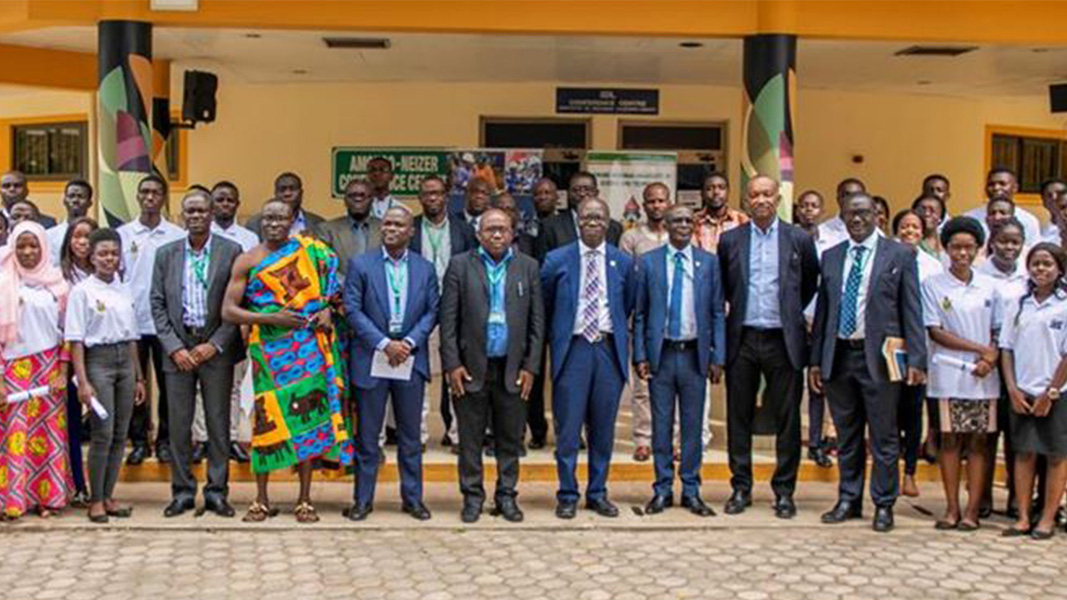 68 Ghanaian students awarded scholarships for Science, Technology, Engineering and Mathematics at Kwame Nkrumah University of Science and Technology (KNUST), Kumasi.
As part of Tullow's socio-economic investment strategy, Tullow Ghana launched a scholarship scheme in November 2018 for students studying Science, Technology, Engineering and Mathematics (STEM) subjects at the Kwame Nkrumah University of Science and Technology (KNUST) in Kumasi. The scheme covers a period of four years and targets brilliant Ghanaian students from underprivileged backgrounds to secure sponsorship to complete a four-year intensive STEM related undergraduate degree or a two-year master's degree in STEM related programmes. The scholarship has supported 68 students at KNUST over the 2018/2019 and 2019/2020 academic years with 50% of the scholarships allocated to indigenes of the Western Region.
Tullow believes that Ghana's development and growth is intricately connected to the capacity of Ghanaians and is committed to creating shared prosperity and leaving a legacy of sustainable social and economic benefits in its host countries.
"At Tullow, we believe that education is the bedrock of our society and a pre-requisite for Ghana's development. It is clear that Ghana's future economic development and prosperity is closely linked with our students' success in the STEM fields as it is the main propeller of innovation and industrial development in this technology-driven world. This is the basis of Tullow's focus on supporting in-country STEM training and scholarship to produce more technical professionals. Our aim is to leave a lasting legacy and to invest in Ghanaians for the future at all levels."- Kweku Awotwi, Tullow Ghana MD
Congratulating recipients, Mr. Awotwi added that beneficiaries represent the future and hope of Ghana with the potential to make changes in a future STEM profession. He challenged the students to make worthwhile the effort and investment being made in their future, adding that petroleum engineering, geology, mechanical engineering, and statistics, among others, are the kinds of professions the company hopes to support with this scholarship scheme.
Vice Chancellor of the Kwame Nkrumah University of Science and Technology, Professor Kwasi Obiri-Danso commended Tullow Ghana for instituting the scholarship scheme. Scholarship recipient Ernestina Annan thanked Tullow for supporting her postgraduate education, explaining that, "the scholarship has given me the peace of mind to concentrate on my studies to become a soil and water engineer."
The scholarship scheme is also available to students studying STEM scholarships at the University of Ghana in Legon. It is projected that 135 students will benefit from the scheme by the end of the 2020 academic year.