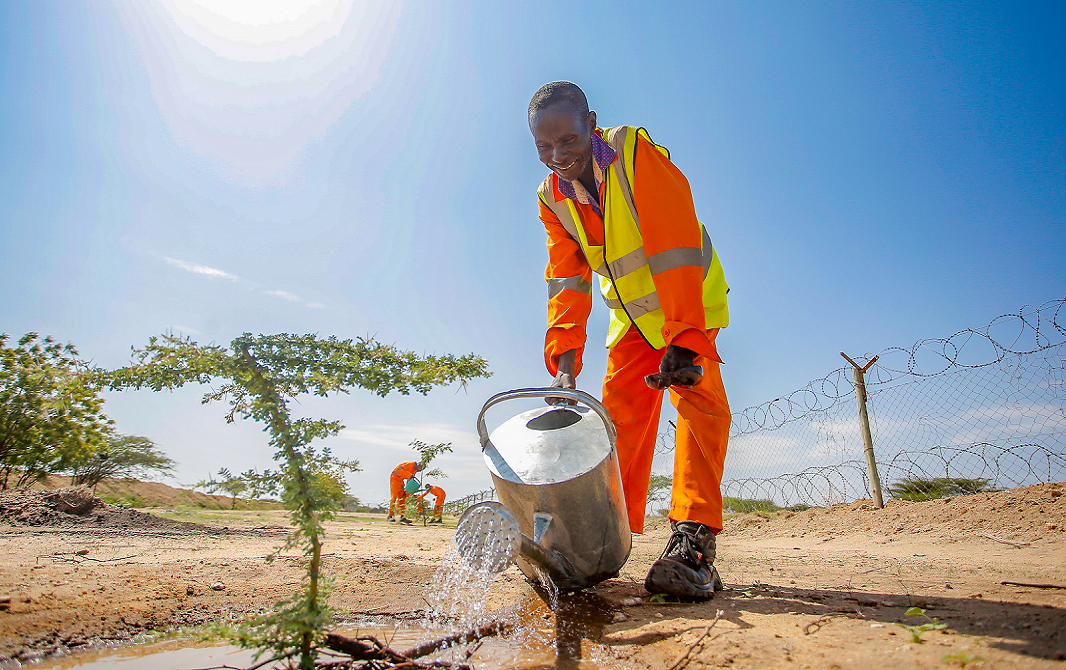 Today is World Environment Day, a day celebrated every year on 5 June since 1974. Governments, businesses, celebrities and citizens are encouraged to focus their efforts on the most pressing environmental issues.
This year the theme is biodiversity, highlighting the impact on nature from the burning of the Brazilian rainforests, wildfires in the United States and Australia to the locust infestations across East Africa, and the impact of COVID, as civilization pushes further into nature's territory.
As an oil company, Tullow's impact more broadly on the environment is significant not only from the Greenhouse Gases we emit through our operations (scope 1 and 2 emissions), but also through the end use of our product (scope 3 emissions). We are making strides to address our own operational carbon footprint, and our recently published Climate Policy is an internal and external signal of intent and ambition in this area, which we hope will continue to grow.
Moving onto the theme of this year's World Environment Day, biodiversity, Tullow is working to limit the impact of our operations on the natural environment. We continue to avoid operations in World Heritage Sites and last year our Kenya and Ghana operations were assessed by independent monitoring groups, adhering to the International Finance Corporation (IFC) Performance Standards. In response to a recommendation from our monitors, in Kenya we established an independent Biodiversity Advisory Panel to review our activities and manage our biodiversity impacts in Kenya in line with the requirements and intent of IFC Performance Standards.
"We welcome the support and guidance of leading national experts in biodiversity in Kenya. As we expand our operations, we are committed to ensuring we do no harm to the natural environment. The Advisory Panel will ensure we are ahead of the game and act in accordance with the best interests of the planet and the local communities." Sam Omondi, Kenya EHS Manager
Also in Kenya, we partnered with the KenGen Foundation to support its ongoing School's Green Initiative Challenge (GIC). The Foundation focuses on three key pillars of sustainability – education, environment and water and sanitation – which compliment Kenya's Vision 2030 and the UN's Sustainable Development Goals. The GIC is a programme that targets schools in arid and semi-arid areas to raise environmental awareness and create an involvement of schools and students in improving their environment.
The project which Tullow is sponsoring is the establishment of indigenous woodlots in schools. Fourteen registered schools, with over 500 pupils, from the two counties will compete in growing and nurturing selected tree species in the two-year pilot project that aims at increasing the areas forest cover while encouraging sustainable natural resource management. The project partners will provide seedlings and technical advice and the programme also includes two capacity building sessions per year for all participating schools and continuous monitoring and evaluation. Prizes will be awarded based on the highest survival rate of seedlings and use of innovation with the best performing schools standing to benefit from education scholarships, infrastructural development, water tanks and rainwater-harvesting, and cash awards, among others.
Separately, Tullow Kenya has been planting trees in and around the Project Oil Kenya area for several years. The seedlings were kept at Lokichar TCRC and initially the trees were planted for well pad restoration and at the sites of social investment projects. Tullow has also continued to support the local communities with equipment to nurture the trees.
Tullow Ghana aims to preserve biodiversity in its area of operations through adhering to best practices in the protection of marine mammals and indigenous species. This is achieved through procedures developed to reduce disturbance to marine and coastal ecology from vessels and helicopters by specifying travel routes, speeds and flight heights.

Tullow also mitigates disturbances to marine mammals from seismic operations using best practice slow start-up protocols, use of passive acoustic monitoring and onboard marine mammal observation personnel. Through consistent marine mammal and turtle observation efforts, Tullow Ghana has since the beginning of its operations made a total of 1,428 sighting of marine mammals and turtles resulting in the identification of eighteen species of marine cetaceans and two species of turtle.