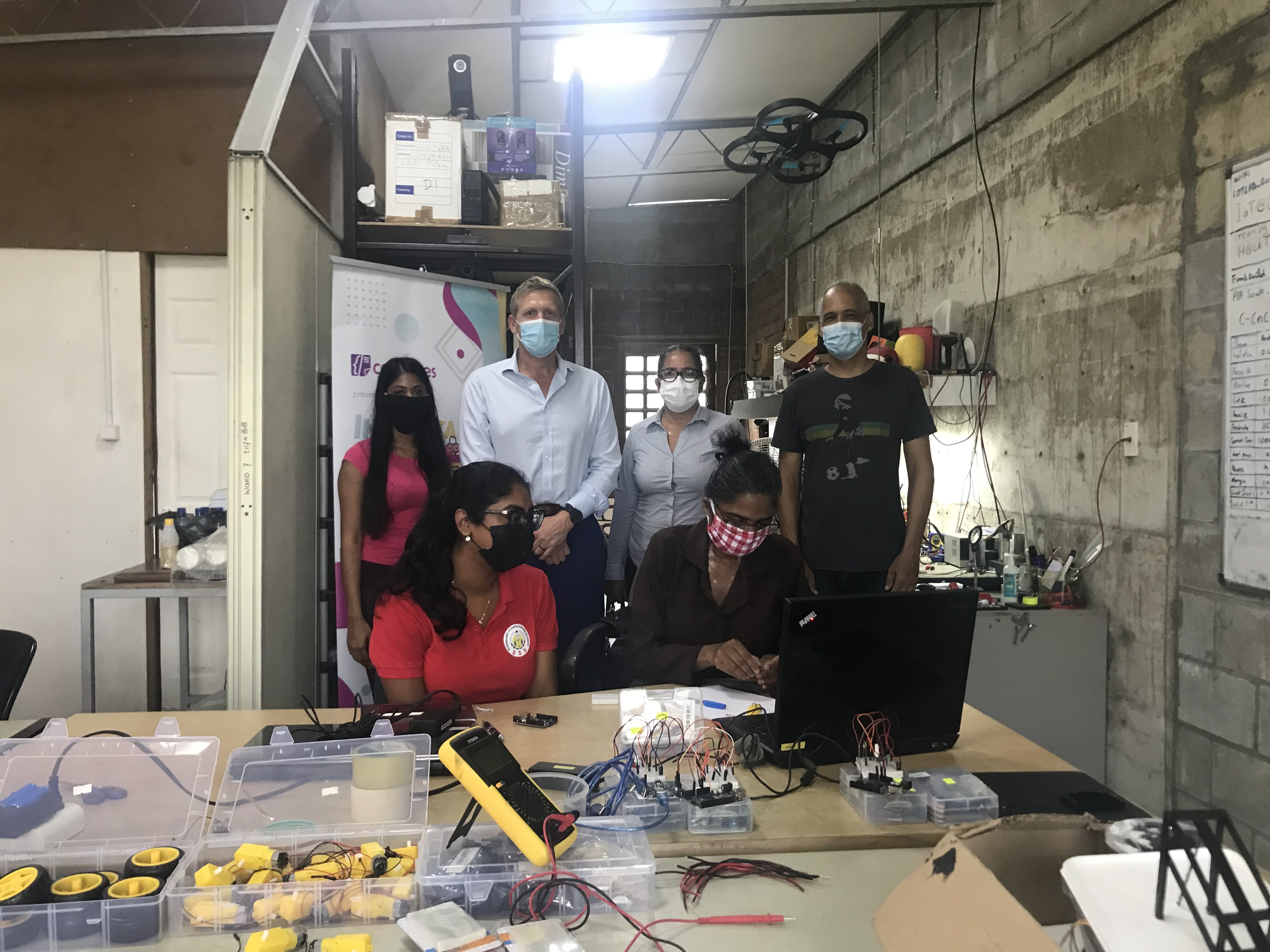 The Codettes Foundation was launched in Suriname in 2018 to focus on women's inclusion in ICT and Tech & Innovation by building a strong community and coaching girls from an early age towards innovation and tech entrepreneurship. Codettes' mission is to inspire, bring awareness to and educate women and girls in innovation and ICT in order to build the next generation of women tech entrepreneurs.
Tullow and partners are supporting two initiatives of The Codettes Foundation – the Inno-Starter programme and the Boot Camp. The Inno-Starter programme is a three-month introduction into embedded programming and digital design and manufacturing for girls and young women aged 14 and over. The first Inno-Starter project was piloted in 2020 with a group of 12 young women receiving hands-on training on embedded programming and 3D design with the end goal to build a completed and working embedded solution for the COVID-19 pandemic. Final projects built included innovations from an auto-garbage bin and sanitizing dispensers to automated temperature scanners for COVID-proof access control.
The 2021 programme was sponsored by Tullow with two programme cycles of 12 participants who want to develop their interest in technology and STEM skills and to venture into coding and digital manufacturing. The current cycle commenced in August 2021 and is due to complete in January 2022. The programmes are delivered both remotely and in person with practical components delivered in an Internet of Things (IOT) Lab and Makerspaces around the country. The programme also serves as a step up for the plans to expand the programme in 2022 and beyond with past and current participants being recruited as coaches for the next phases.
What can the girls do after the Inno-Starter programme?
Students are qualified to enroll into the Codettes Bootcamp, participate in the local and international Hackathon and Hackomation Challenges and seek employment in local labs.
The Codettes Boot Camp is a 12-month programme which guides a group of 12 trainees in three stages through the concepts of digital fabrication followed by a 12-month project upscaling tech start up and support track. The Boot Camp programme is inspired by and based on The Massachussets Institute of Technology's Centre of Bits & Atoms 'How to Make (Almost) Anything' concept by Neil Gerschenfeld which is also being implemented across the Global Fab Academy network which currently has more than 1200 labs in 131 countries.
In Phase 1 of the Boot Camp the participants are tasked to build a basic IOT prototype from scratch using a combination of electronics design and production, basic 2D and 3D design and manufacturing with additive and subtractive techniques and basic software programming. In Phase 2 participants choose a final project to further develop into a sellable end-product, develop all supporting infrastructure, get pre-compliance certification and ultimately complete their pitch-deck with a social media campaign and project video. The 2021 Boot Camp began in September 2021 and is also being held remotely with practical components hosted in the IoT Lab and other Codettes Makerspaces around the country with past and current participants being recruited to train the participants of future Boot Camps.
Disha Boeddha, a graduate of the 2020 Boot Camp, outlines what she learned by taking part:
https://www.youtube.com/watch?v=dbUgVoPkSXQ&t=1s
What can the girls do after the Boot Camp?
Upon completion of the Boot Camp the students are qualified Lab Managers and are eligible to join a Tech Start programme to upscale their innovations or become tech entrepreneurs. Many graduates of the Codette's Bootcamp have been hired by local tech labs in Suriname.
Find out more information on the Codettes Foundation here: https://codettes.org/