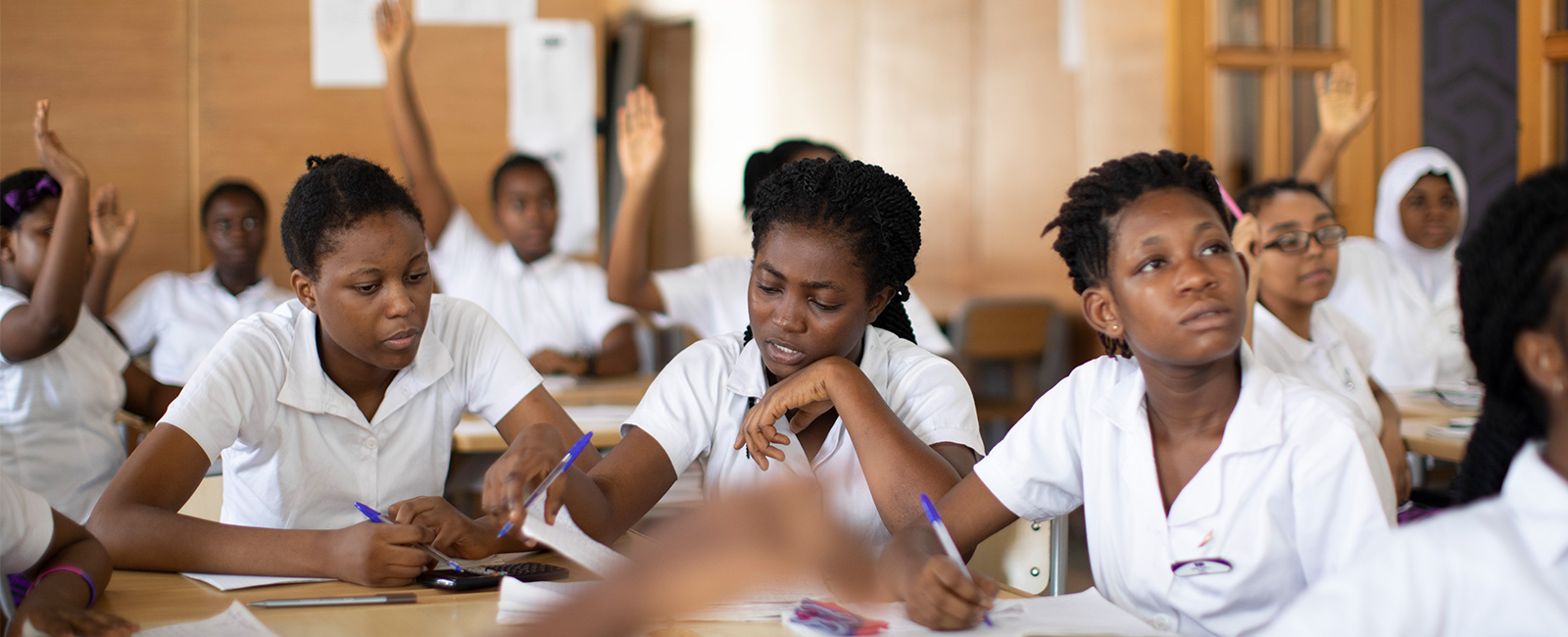 Tullow is supporting the African Science Academy (ASA) which was established in Tema, Ghana by the African Gifted Foundation UK in 2016 to provide sixth form education for young women with outstanding maths and science potential.
The ambition of ASA is to be the leading school in Africa for gifted young scientists. Every year 22 talented young women are selected from over 200 applicants to study for the globally recognised Cambridge International A Levels. They complete maths, further maths and physics A Levels in 10 months, compared to the usual two year A Level programme, and aim to achieve a top quartile result compared with UK secondary school performance. In 2018 one of ASA's students received the best ever A Level maths and further maths results in Ghana.
Science, Technology, Engineering and Mathematics (STEM) is a key priority for the Government of Ghana and ASA was officially opened by the Minister for Information. The Government have been very supportive of the project and value having the only girls' centre of excellence for science and mathematics education in Africa based in Ghana.
The partnership has included opportunities for mentoring visits by Tullow staff to ASA, and students have also spent time in Tullow's Ghana office meeting and engaging with staff who told them about their roles and provided advice on career paths.
ASA is successful not only for the brilliant results it achieves, but also because of the ethos and values it instils in its students. The young women graduating from this academy, many of whom come from disadvantaged backgrounds, go on to secure scholarships in leading universities and will play their part in improving the quality of the STEM talent pipeline in Africa.
To be in ASA is a very great opportunity I would have never gotten anywhere else. My life has seen a complete turnaround since I became an ASA girl. ASA is not only a school that provides you with quality tuition from quality teachers but has also moulded me to be a woman, ready to face the world.

ASA Student Rosemond from Gbefi-Tornu in the Volta Region
ASA's own plans for the future are to maintain the current size of the academy but to focus on improving the quality of the education and ensuring the graduates secure STEM related scholarships in leading universities. The academy also provides a maths masterclass each year for Ghanaian teachers to improve the quality of maths teaching around the country.
Whilst ASA got off to a great start, it is still a relatively new school and needs to secure other long term funders to ensure its sustainability and retain good quality teachers.
Sandy Stash, Executive Vice President, Safety, Operations & Engineering & External Affairs commented 'Tullow's support, initially for a two year pilot, has been very successful and we recently approved a second phase of the partnership for a further two years. Our partnership with ASA is a demonstration of Tullow's commitment to Shared Prosperity and the future of Africa - and we look forward to continuing to support the education of young women in science and maths in Africa.'