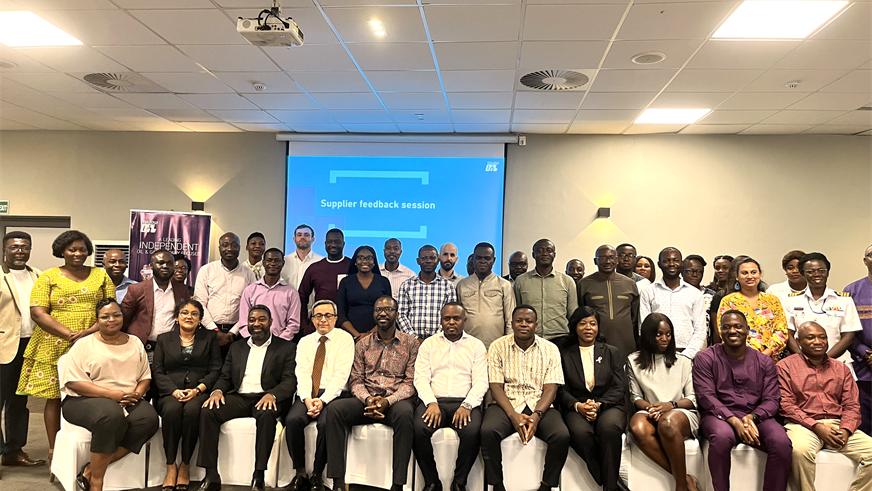 As part of Tullow Ghana's commitment to increase local participation in Ghana's oil and gas industry, Tullow Oil launched its maiden "Tullow Supplier Market Day" on Wednesday 16 November 2022.
The Tullow Supplier Market Day is a quarterly forum which provides suppliers with a platform to:
provide direct feedback to Tullow's procurement team on procurements and contracts
provide visibility of Tullow's procurement plans
discuss opportunities to increase local participation scopes
improve local capacity, amongst other related topics.
The Tullow Supplier Market Day was conceived following feedback from suppliers who wish to learn more about the company's procurement methods, improve their chances of winning tenders, correct shortcomings with bid submissions, and gain insights into the company's procurement plans.

The event was attended by over 120 indigenous supplier companies and Joint Venture companies who had the chance to engage in open dialogue with Tullow's Supply Chain team.
"Supplier development remains an important component of Tullow's local content strategy. The Supplier Market Day is one of our key local content initiatives intended to enhance Tullow's visibility of opportunities that allows us to deepen participation through regular quarterly engagements with the supplier community and our procurement teams." – Wissam Al-Monthiry, Tullow Ghana MD
Since inception of its operations, Tullow has consistently rolled out initiatives that allow the company to boost indigenous participation in Ghana's oil and gas sector. Recent successful initiatives include:
the Marine Sector adoption strategy which led to the contracting of the first Ghanaian-owned, flagged, manned and registered vessel providing services in the Jubilee and TEN fields,
Tullow supplier mentorship and training programmes,
the contract scope reservations for indigenious companies, amongst others.
Tullow intends to continue its efforts to develop local capacity and participation through further initiatives planned for 2023.