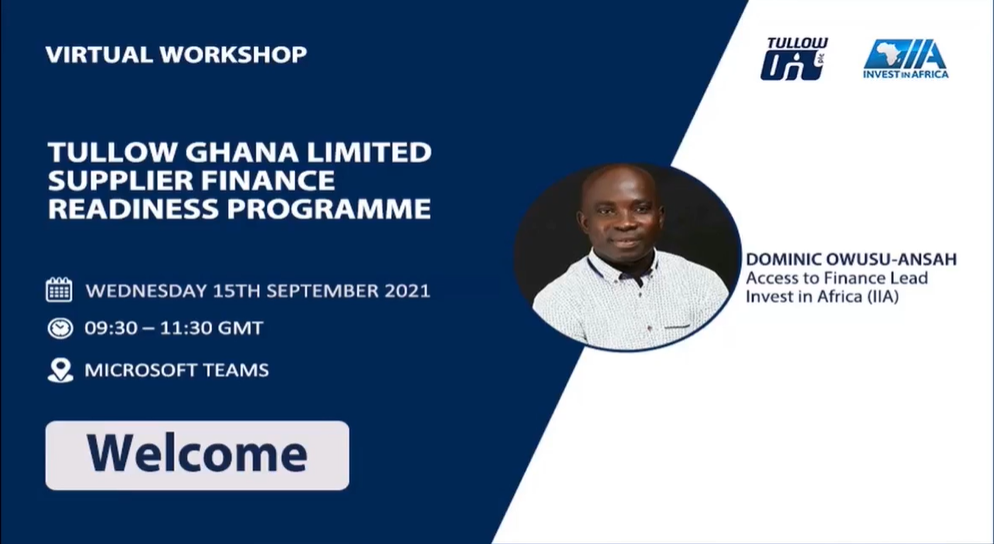 Supplier development is an important component of Tullow's local content strategy and has been an effective means by which Tullow has consistently increased and sustained indigenous participation in our operations. Over the past decade, Tullow has ensured that our supplier development initiatives remain relevant and are tailored to address the needs of suppliers in the upstream oil and gas sector.
Our supplier development initiatives have become even more important as the Ghana business focuses on delivering maximum value from the Jubilee and TEN fields under the Ghana Value Maximization Plan. When fully executed, the plan will see a further $4bn investment in Tullow's Ghana operations over the next 10 years, which will lead to more activities and an increase in production which means more suppliers and more supply volume requirements.
Tullow recognizes the extent to which the COVID-19 pandemic has disrupted both local and global supply chains. The pandemic has also accounted for significant spend on rescue packages to support impacted businesses. In 2020, Tullow supported our suppliers with interventions to improve their chances of survival during the pandemic and most importantly helped them to become more resilient into the future. Amongst interventions rolled out last year was Tullow's partnership with Invest in Africa (IIA) to develop a special COVID-19 business recovery and resilience toolkit which helped suppliers in the upstream oil and gas sector to mitigate supply chain risks.
In 2021 Tullow has again partnered with IIA to implement an eight month finance-focused programme aimed at supporting suppliers whose business operations and finances have been adversely impacted by the COVID-19 pandemic. The roll-out of the programme themed "Access to Finance Programme for Suppliers" commenced on 15 September 2021 with a workshop to equip suppliers with the knowledge, skills and support needed to effectively engage with financial institutions to refinance/restructure existing funding programmes and improve liquidity.
"We hope that the workshop enables suppliers to gain deeper insights into business financing, business risk assessment, financial products and services, and requirements to access finance, and equip organisations with the relevant information, knowledge and support to enhance the financial sustainability of their business." – Paul Watson, Group Supply Chain Manager, Tullow Oil
The workshop will be followed by the provision of tailored one-on-one business and financial advisory support to selected interested suppliers to refinance/restructure their existing loans/debt over the next eight months.
For more information on Tullow Suppliers visit https://www.tullowoil.com/suppliers/
A video of the Access to Finance Programme for Suppliers workshop is available here: https://www.tullowoil.com/suppliers/local-content/