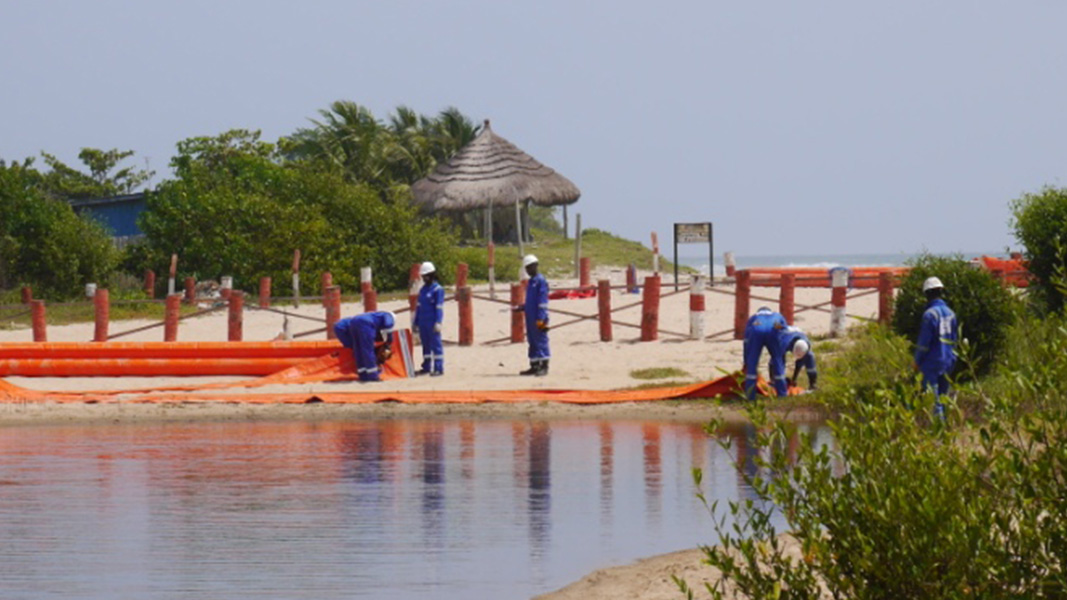 Tullow Ghana partner with Oil Spill Response Ltd and key local stakeholders to conduct emergency response exercises.
As part of Tullow Ghana's continued commitment to emergency response preparedness, exercises are conducted regularly both onshore and offshore with Field Response Teams to ensure a heightened level of readiness is maintained at all times.
To make sure the team is joined up in all aspects of incident management an annual major exercise is held to evaluate every function of Tullow Ghana, testing escalation from a Tier 1 in-house response through to Tier 3 international assistance. Led by Tullow Ghana's Incident Management Team, the four-day exercise brought together response personnel from Oil Spill Response Ltd and key local stakeholders to test a number of potential emergency situations.
The exercise scenario initiated a response to a simulated offshore incident that included vessel deployed containment boom, oil recovery skimmer, surface dispersant application, tracking buoys, aerial dispersant application, aerial surveillance and all supporting logistic requirements to ensure a co-ordinated response. Edward Abban, Asset Protection Team Lead for Tullow Ghana, commented: "There is no better way to prepare for an oil spill than to practice the various levels of the emergency response system to clarify and test roles and responsibilities for effectiveness in a real situation."
Throughout the various stages of response, the Incident Management Team formulated a forward-looking Incident Action Plan involving the mobilisation of shore-line equipment as informed by oil spill modelling data provided by Oil Spill Response Ltd whilst using information detailed in Tullow Ghana's pre-prepared tactical response plans.
The management of 'pre-impact shoreline preparation' and securing areas in a real spill incident were also tested. Two locations were chosen where Tullow Ghana's onshore teams were mobilised to site. Initial site safety assessments were made after which "deflection and collection" boom configurations were deployed to protect the inherent sensitivity of the location. A shallow water skimmer and a collapsible storage tank to simulate recovery operations was also set up. The equipment was mobilised from a chosen lay-down area (cold zone) to site (hot zone) by utility task vehicles driven by trained Tullow Ghana drivers.
With a wealth of knowledge being shared throughout the event, and daily feedback being turned into action plans that will further enhance the credible response capability that is already in place, it's clear that regular exercises like this are critical to responsible operation.

Duty Manager for Oil Spill Response Ltd
Oil Spill Response Ltd specialists embedded within Tullow Ghana developed and maintain Tullow's 80 Site-Specific Management Plans, which detail a section of Ghana's western coastline. After the initial field work, Tullow Ghana continually tested the plans with visits to the various sites, driving the routes and meeting key community contacts at each location. The Site-Specific Management Plans address the complicated logistical considerations, site safety, site sensitivities, bulk waste management and village points of contact, all of which is vital information needed to support a real mobilisation and formulate an effective Incident Action Plan.
The exercises tested Tullow Ghana's preparedness across every operational department and was considered a great success, highlighting significant preparation that already exists within the organisation, as well as identifying a small number of areas for improvement.