Ghana's world-class Jubilee field was discovered in 2007 by the Mahogany-1 (M-1) and Hyedua-1 (H-1) exploration wells.
The two wells were drilled some 5 km apart and intersected large continuous accumulations of light sweet crude oil. The M-1 and H-1 wells discovered large net pays of 95m and 41m respectively in high-quality stacked reservoir sands. The Jubilee field straddles the West Cape Three Points and Deepwater Tano licences.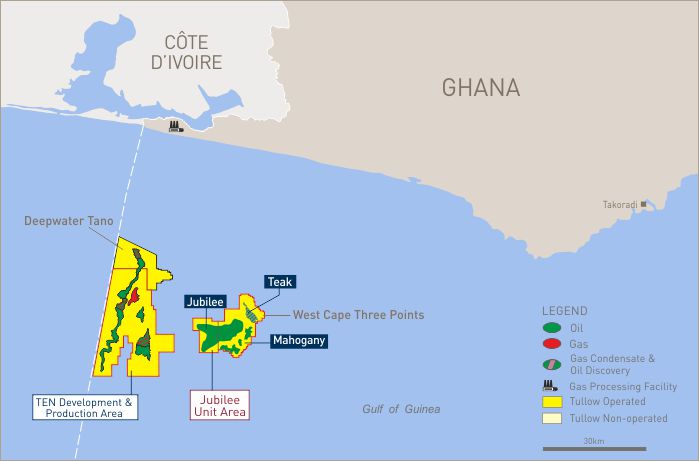 In July 2009, the Minister of Energy approved the Phase 1 Plan of Development which included the use of an FPSO with a facility capacity of 120,000 bopd. In December 2010, the field came on-stream.
2022 and 2023 Production
Net production from the Jubilee field was 31,900 bopd in 2022 and is expected to average around 37,000 bopd in 2023.
Jubilee unit area
| | |
| --- | --- |
| Tullow (operator) | 38.98% |
| Kosmos | 38.61% |
| GNPC | 19.69% |
| Petro SA | 2.72% |
Environmental Impact Statement
Under the Ghana Environmental Assessment Regulations LI 1652 1999, Tullow and partners are required to submit an Environmental Impact Statement (EIS) describing the project and providing an assessment of the potential impacts from the proposals and the proposed measures to be taken to manage these impacts.
Tullow commissioned Environmental Resources Management (ERM) in collaboration with ESL Consulting, Ghana (ESL) to undertake the EIA for the Phase 1 Jubilee Field development.