Ghana's world-class Jubilee field was discovered in 2007 by the Mahogany-1 (M-1) and Hyedua-1 (H-1) exploration wells.
The two wells were drilled some 5 km apart and intersected large continuous accumulations of light sweet crude oil. The M-1 and H-1 wells discovered large net pays of 95m and 41m respectively in high-quality stacked reservoir sands. The Jubilee field straddles the West Cape Three Points and Deepwater Tano licences.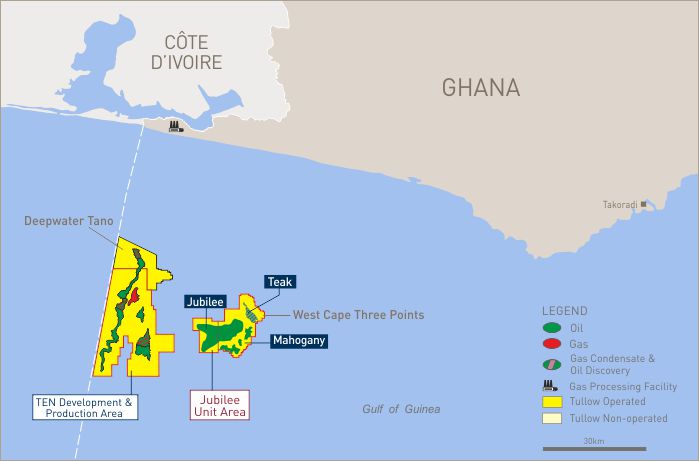 In July 2009, the Minister of Energy approved the Phase 1 Plan of Development which included the use of an FPSO with a facility capacity of 120,000 bopd. In December 2010, the field came on-stream.
Turret Remediation Project
The Turret Remediation Project is close to completion. This pioneering and unique project, which included the first ever remediation of this type at sea, required the FPSO Kwame Nkrumah to be shut down twice in the first half of 2018 for work to stabilise the turret bearing for periods of 19 days and 21 days respectively. In December 2018, the FPSO was successfully rotated to its new heading of 205 degrees and subsequently spread-moored.
The JV Partners have also agreed to install a Catenary Anchor Leg Mooring (CALM) buoy for offtake from the FPSO and a contract award has been made. The installation of the CALM buoy is likely to take place in 2020 and is not expected to affect production.
2020 Production
Gross production from the Jubilee field is expected to average around 82,000 bopd (net: 29,000) bopd in 2020.
Jubilee unit area
| | |
| --- | --- |
| Tullow (operator) | 35.48% |
| Kosmos | 24.08% |
| Anadarko | 24.08% |
| GNPC | 13.64% |
| Petro SA | 2.73% |
Environmental Impact Statement
Under the Ghana Environmental Assessment Regulations LI 1652 1999, Tullow and partners are required to submit an Environmental Impact Statement (EIS) describing the project and providing an assessment of the potential impacts from the proposals and the proposed measures to be taken to manage these impacts.
Tullow commissioned Environmental Resources Management (ERM) in collaboration with ESL Consulting, Ghana (ESL) to undertake the EIA for the Phase 1 Jubilee Field development.